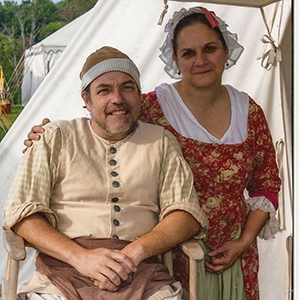 Documenting Our Work
At Steinhagen Pottery, we are engaged in ongoing research that informs our creative process. We collect early pottery ourselves, and are constantly alert for examples of early 18th-century redware and other ceramic forms to inform the pieces we make. We visit museums and historical houses, seek out books on the subject, refer to paintings and other period art works, and talk to experts to learn more about the typical (and atypical) pottery of the 18th century.
In fall 2016 we traveled to England, tracking down the sources of the sgraffito redware which was exported in great quantity from British potters to the American colonies. We spent hours in museums and studios in London, North Devon and Stoke-on Trent, learning more about the centuries-old British pottery tradition and its influence on the potters who began making their own work in America. We came back rejuvenated, with hundreds of photographs and many new ideas, which we're busy interpreting in our own style, keeping the legacy of our forebears in clay alive and thriving.
Learn More